Until September 5th, 2022
Wednesday to Sunday from 11 a.m. to 4 p.m.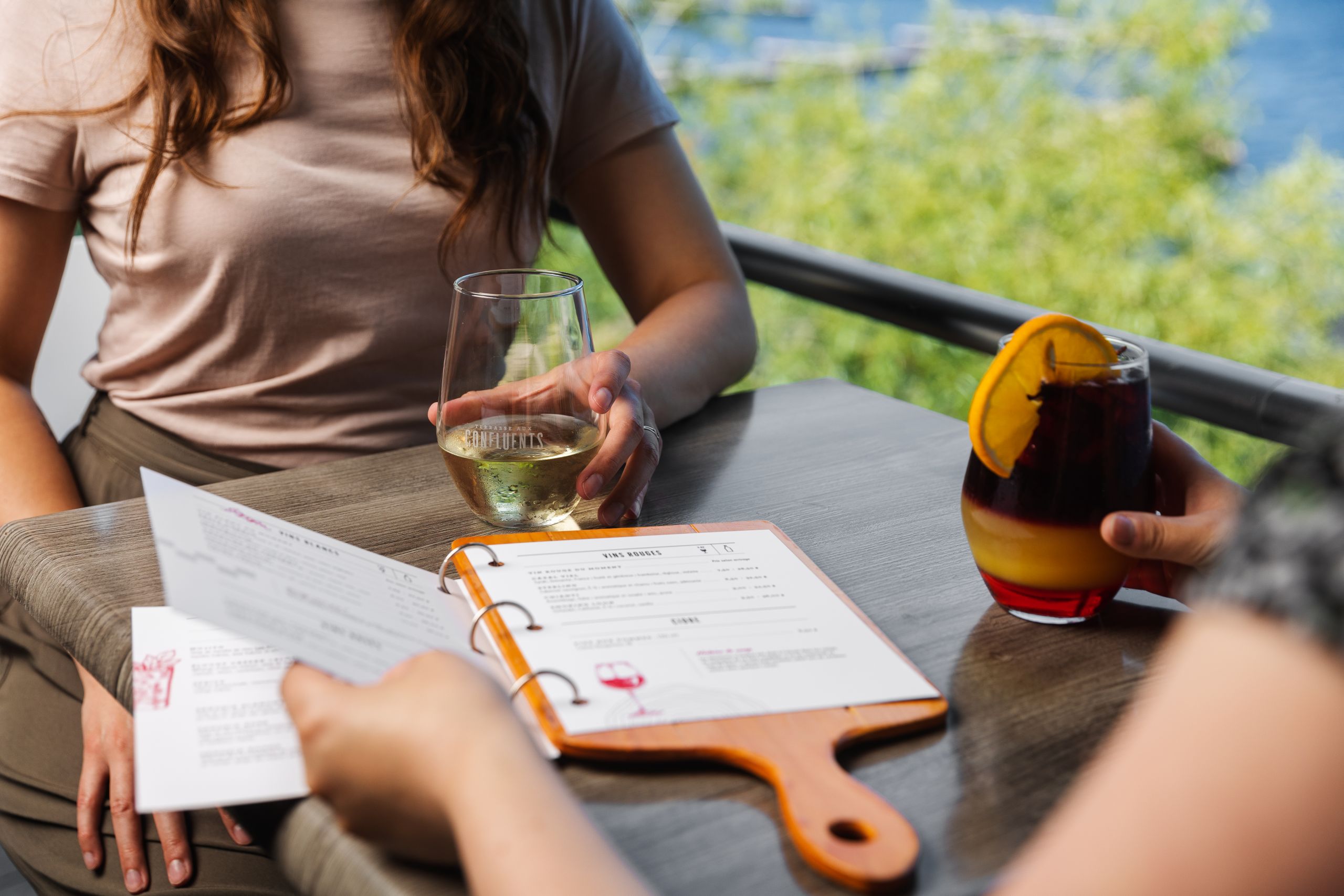 THE TERRASSE AUX CONFLUENTS
Adjacent to the Boréalis museum, the Terrasse Aux Confluents is an enchanting place overlooking the St. Lawrence and St. Maurice Rivers. This ever-lively terrace offers an exceptional view and a unique atmosphere! Have a drink with friends in this chic and rustic atmosphere!
From Wednesday to Sunday, all meals are prepared by our partner Castel 1954, from 11 a.m. to 2 p.m.
Please note that snacks are available after 2 p.m. On Sunday, lunch boxes, prepared by Castel 1954, are also available.
Meals
Deluxe BLT Sandwich
With Fries
Grilled chicken salad with apples
With maple vinaigrette
Beef meatloaf with garden basil
With homemade marinara sauce
Castel smoked salmon poke
Lagoon sangria
White wine, blue curaçao, peach schnapps, tropical juice and ginger ale
White Sangria
White wine, rum, mango syrup, orange juice and ginger ale
Gin and Tonic
La poche bleu (Noroi) gin and tonic water
Bloody Caesar
Kamouraska vodka, Clamato juice, liquid smoke
Mojito
Chic-Choc rum, mint syrup and club soda
Spiked Coffee
Spiked Coffee
BRUT | BRASSERIE DÉPAREILLÉE | 4,5%
Blond beer low carb
BLANCHE DU MAGWA | BRASSERIE DÉPAREILLÉE | 5,5%
White beer with strawberries, basil and black pepper
PREMIER SHIFT | MICROBRASSERIE LE TEMPS D'UNE PINTE | 4,8%
Pale Ale worker
LE PUCK | MICROBRASSERIE LE TEMPS D'UNE PINTE | 6,6%
Coldbrewed Stout
BLANCHE DE SHAWI | MICROBRASSERIE LE TROU DU DIABLE | 5%
White wheat beer
APOCALYPSO | MICROBRASSERIE LE TROU DU DIABLE | 6,5%
White IPA
CÔTESSE | MICROBRASSERIE LA FORGE DU MALT | 6%
New England IPA
TIGNASSE | MICROBRASSERIE LA FORGE DU MALT | 5,6%
Red beer
CARPENTER SOBER
Non-alcoholic
Red Wines
Liberty School
Cabernet sauvignon
Smoking Loon
Cabernet sauvignon
La belle étoile
Pinot noir
Rocca delle Macie
Chianti
White Wines
Domaine Tariquet
Ugni blanc
Sparkling Wine
Rosé Framboise
Raspberry and sparkling
Lemonade
Orange juice, cranberry juice, ginger ale and lemon syrup