Projects and heritage dissemination
Over the years, the Boréalis' team implemented several projects aimed at showcasing the history of the pulp and paper industry from every angle.
Memory Space
Located at the heart of the museum's permanent exhibition, Memory Space presents, through short and medium-length documentaries, the different testimonials gathered by Boréalis over the years. Each year, a different theme will be presented. This year, Memory Space features the short film: "L'ère du gros lard".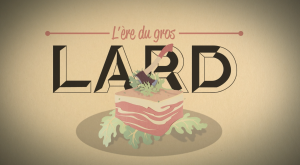 To get the strength they needed to do their hard work, lumberjacks would devour gargantuan meals. Let us tell you this story through witnesses who have experienced the life, but mostly the food in the camps!
Script writing and editing: David D.D.
Animation: Suzie Bergeron
Music: André Brunet
Coordination: Catherine Lampron-Desaulniers
Witnesses
1- Alain Didier, land owner, Gaspésie
2- Émile Gélinas, cook, lumberjack, log driver, Mauricie
3- Yvon Morin, camp foreman, Outaouais
4- Éloi St-Amour, log driver, Outaouais
5- Rollande Paquette, camp cook, Outaouais
6- Émile Gélinas, lumberjack, log driver, Mauricie

The production of this documentary has been made possible through the financial contribution from the Department of Culture, as part of the Programme d'aide au fonctionnement  des institutions muséales.
Memory Space is located in the multipurpose room, at the heart of the permanent exhibition.

5S Passage stimulates the five senses: hearing, smell, taste, touch and sight. Through three stations, we offer you an experience that perfectly combines modern technology and ancient artifacts. Go for it! Smell the strong odour that was sometimes emanating from the plants, observe fibres through a microscope, touch the surprising consistency of paper pulp. And there's more… Thanks to a unique room that simulates heat, humidity and rumblings, you'll be able to experience the working conditions of workers back in the days.
Lasting about eight to ten minutes, 5S Passage fits perfectly with the museum's Experience tour, which includes two interactive activities: The Papermaking Workshop and the Path of Forgotten Souls.
COVID-19 update
Due the COVID-19 pandemic, 5S Passage is not available.