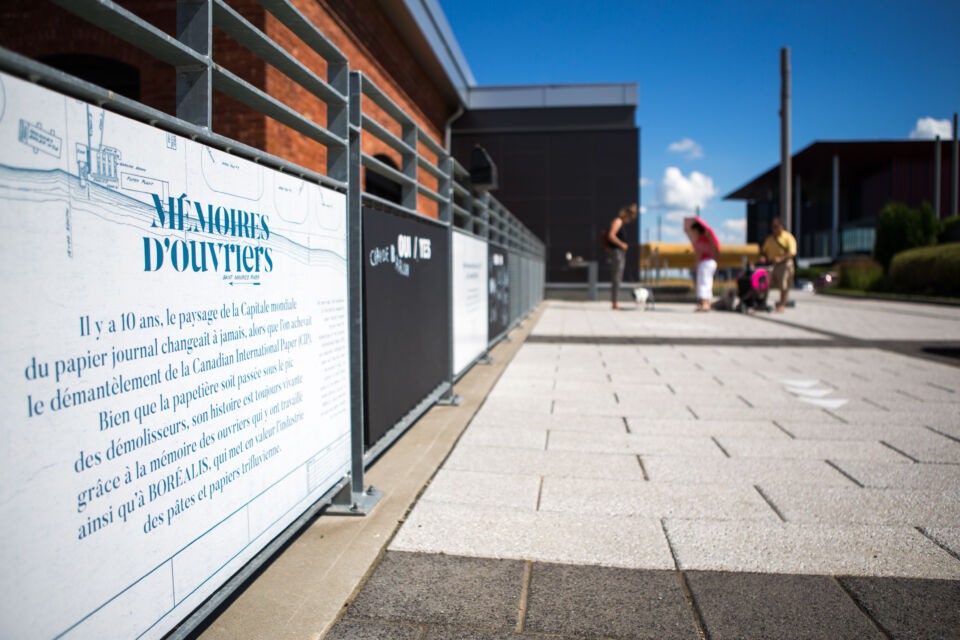 Ten years ago, the landscape of the world's capital of newsprint paper was forever changed as the dismantling of Canadian International Paper (CIP) was completed. Although the paper mill was swept away by wrecking balls and bulldozers, its history lives on in the memories of its former workers and at Boréalis, which showcases Trois-Rivières' pulp and paper industry.
Workers' Memories is historical during the day and artistic by night. Whether you're a visitor or a passerby, this urban relaxation area on the Boréalis' promenade invites you to stop and take the time to remember our past while enjoying this place etched in history.
Many knowing winks were given to the former workers of the CIP through this exhibition. Whether it is the blue accents, which recalls their work clothes, or the iconic lunch box, which contain the chalk sticks visitors use to indicate their links with Trois-Rivières' CIP, every single detail has been thoroughly considered.
During the construction of the relaxation area, a pergola and canvases were installed to create a restful, shaded area. The canvases evoke the passing of the sheet of paper through the machine. Since Trois-Rivières was long ago the world's capital of newsprint paper, it went without saying that these canvases highlight the existence of the four paper mills of the area, represented here in newspaper articles from that time.
Underneath this pergola, there are tables covered with large format archival photographs which enliven the space, as well as a huge plan of the CIP that helps visitors understand how important the mill once was to Trois-Rivières' landscape. Pivoting cubes illustrating the CIP's themes showcase the collection's testimonials and serve as a narrative framework for the exhibition. Finally, beneath the visitor's feet, workers' footprints indicate the path to follow to make sure nothing is missed … not even the anecdotes which pepper the ground.